ARE YOU READY TO TRANSFORM YOUR LIFE?
ACHIEVE YOUR GOALS WITH A REGISTERED DIETITIAN:
Backed by Science, Fueled by Passion.
Inner Health Nutrition Consulting has been committed to helping local communities reclaim their health and well-being since 2000.
With 30 years of nutrition counselling experience, Filomena Vernace-Inserra (Registered Dietitian, RD) provides a compassionate and evidence-based approach to her tailored nutrition counselling programs, educational public workshops and nutrition-fuelled meal planning tools.
Located in Vaughan, Ontario, Filomena supports her clients in-person as well as through online appointments.  Jasna Robinson-Wright (RD) & Ackwinder Gill (RD) will exclusively provide extended virtual nutrition counselling appointments to our clients.
Inner Health Nutrition Consulting is expanding!
With a diverse set of skills and expertise, our passionate team of Registered Dietitians' are dedicating to serving your needs through the latest science & techniques. With evidence-based nutrition guidelines, we are here to support you in achieving optimal health & well-being:
EMPOWERING HEALTHIER HABITS
Many Canadian families struggle to maintain healthy dietary habits in their everyday routines. 

From nutritional knowledge and recipe ideas to meal planning and easy prep techniques – Filomena has coached thousands of individuals, couples, families and public groups in empowering themselves with the skills for a happier, healthier lifestyle.  
When it comes to maintaining our health, there is no one-size-fits-all solution.
At Inner Health Nutrition Consulting, our programs are personally tailored to meet the unique needs of each and every client.
From weight management and disease prevention to family nutrition and meal planning – Filomena provides a scientifically-proven approach to identifying personal barriers, understanding the relationship between health and nutrition and implementing effective strategies towards healthier habits.
✓  IN-PERSON & VIRTUAL CONSULTATIONS
With programs ranging from individual consultations to 1, 3, 6 and 12-month durations – clients have the flexibility of coordinating their day-to-day schedules with a program that will best support their long-term goals.
For 30 years, Filomena has helped many of her clients reclaim control over a wide variety of personal goals and health concerns, including food sensitivities, gut-health issues, food allergies, disease-specific nutrition intervention, sustainable weight loss and improved family nutrition.
By combining education and dietary changes with genetic testing and modern meal planning technology – Filomena prides herself on the accessibility and sustainability of her modern practice.
PERSONALIZED PROGRAMS FUELED BY INDUSTRY-LEADING TECHNOLOGY:
EatLove - Intuitive Meal Planning App
EatLove is a science-based and dietitian-developed meal planning app that creates fully-personalized menus based on Filomena's personal nutritional assessment and recommendations.
Offered as part of her multi-visit packages, clients are able to identify their energy requirements, monitor micros and macros, and address a wide variety of conditions, allergies and health goals using an intuitive, interactive and easy-to-use platform. From personalized grocery lists and over 5000+ swappable recipes to practical restaurant recommendations and instant messaging with your RD, EatLove is a powerful tool for tracking your habits and improving your life.  Contact >>
Nutrigenomix™ Genetic Testing
Nutrigenomics is a new scientific discipline that uses modern genomics technology to study the relationship between genes, nutrition and health.
To move this genetic research from the laboratory to the clinic, Nutrigenomix Inc. (a University of Toronto biotechnology startup) has empowered registered dietitians and their clients with comprehensive, reliable, genomic information using small, non-invasive saliva samples.
With a Nutrigenomix™ test kit, Filomena counsels her clients according to their unique genetic profile with the ultimate goal of improving your health through personalized nutrition. Contact >>
Before & After Transformations:
PROVIDING SCIENCE-BASED SOLUTIONS FOR:
+ Health and Wellness
+ Sports Nutrition
+ Weight Management
+ Digestive Health
+ Diabetes Management
+ Cardiovascular Health
+ Pediatric Nutrition
+ Vegan/Vegetarian Diet
+ Prenatal Nutrition
+ Chronic Disease Prevention
+ High Blood Pressure/Cholesterol
+ Ulcerative Colitis/Crohn's Disease
+ Celiac Disease
+ IBS (Irritable Bowel Syndrome)
+ Liver/Kidney Disease
+ Polycystic Ovarian Disease
+ Insulin Resistance
+ Menopause & more!
Does Intermittent Fasting work? What about the Keto Diet? How do I interpret nutritional facts? Can I eat carbs?
Note: Due to Covid-19, all workshops have been transferred online to help support the needs of our community.
Through a variety of specialized workshops, Filomena Vernace-Inserra (RD) brings a fresh, educational perspective on the value of food and nutrition to her local communities:
Virtual Nutrition & Fitness Program
Join
Filomena Vernace-Inserra (Award-Winning Registered Dietitian) as she teams up with Silvana Taffo (Celebrated Fitness Specialist) in a powerful combination of fitness and nutrition empowerment! With over 50 years of combined industry experience, members will have access to live weekly fitness classes along with a library of empowering pre-recorded fitness sessions. The program may also include group nutrition meetings, one-on-one touchpoint meetings, recipes, cooking classes, suggested meal plans, and access to a virtual community of like-minded individuals *program details may change at the discretion of the Dietitian. Jump start your personal growth journey with the support you deserve! Contact >>
Corporate Lunch & Learns | Community Presentations
Filomena has extensive experience in curating specialized presentations for a variety of different workshop events. With her audience in mind, Filomena has delivered many corporate and community presentations to companies including Victaulic Company of Canada, Catholic Children's Aid Society, National Fire Equipment, Apotex, RBC, TD, Etobicoke Seniors Services, Wellspring Cancer Support Centre, Vaughan's "Health and Wellness Expo" and schools including Blue Willow Public School, St. Angela Merici and Palgrave Public School. Filomena prides herself on translating nutritional knowledge into informative and practical workshop experiences. 
Contact >>
Wellness Cooking Classes & Onsite Grocery Store Tours
Filomena offers fun, informative and interactive workshops for groups of all ages! From delicious cooking classes and tutorials to onsite grocery shopping tours, Filomena aims to empower people with the necessary skills and confidence to optimize their approach to food and nutrition. By learning how to read nutritional labels, participants will be able to make better food choices, purchase more sustainable groceries, make more enjoyable meals and feel better about their overall health! Contact >>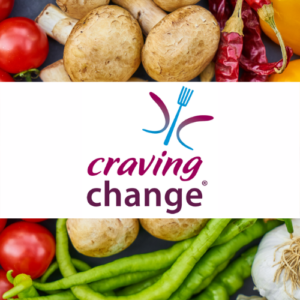 Craving Change™ is an educational program that is designed to inspire healthier relationships with food. By identifying personal barriers and behavioural habits, you can gain better insight into why you might eat the way that you do, and how to improve for a healthier, happier lifestyle. Filomena Vernace-Inserra (RD) is a licensed Craving Change™ facilitator and has helped thousands of people improve their health using proven Craving Change™ strategies and techniques. Contact >>
Workshops and Consulting Services
A long-term consultant to the diverse needs of the food industry, Filomena has provided personalized support to local restaurants and businesses for 30 years. 

From menu consultations and PPM 150 approvals to daycare menu reviews and specialized workshops, Filomena has worked closely with a number of catering and pizza establishments to review and improve hot lunch programs in line with the Ontario Ministry of Education's standards.  Contact >>
Interested in organizing a personalized workshop for your team, business or organization?
Get it touch for a personalized, obligation-free consultation!
Most Canadian adults do not receive the recommended amount of magnesium, calcium, vitamin A, vitamin D, fibre and potassium from their everyday diets.
No gimmicks. No fads. No deprivation.
At Inner Health Nutrition Consulting, we take a "whole-istic" approach.
While fad diets never work long-term (and can be severely damaging to your health), Filomena encourages a balanced approach to healthy, portion-controlled meals using her "70+ Easy, Enjoyable & Nutritiously Energizing Recipes" E-Book, as well as her "Your Dietitian-Approved Grocery Shopping Guide":

"When I turned 60 I promised myself I needed to make a change and find something that would make me healthy and ensure that my old age would not be one filled with aches, pains and limitations and also medications to help the symptoms that come with being obese my whole life. In searing out dieticians – I came across Filomena Vernace-Inserra and was impressed with her experience and approach. I started in July 2021 and to date (Feb. 2022) have lost over 30 pounds. […] Since I started this new lifestyle; I have had more variety and enjoyable meals that are vibrant in color, flavor and also meets the daily requirements of fruits and veggies. […] Thank you for everything Filomena and for giving me my joy back! You really care about your clients and are always available. We are connected for life!" – Feb 2022
Ocean Mechanical 7

"When my doctor asked me to monitor my blood sugar, I knew I needed a guidance from a dietician. I found Filomena from Google and decided to give her a try. She is very patient in answering all of my questions. She earns my trust with her knowledge and professionalism. She stresses the importance of healthy lifestyle change that I can maintain and not to feel guilty when sometimes I "cheat". Be mindful of portion sizes and frequency, she says. Filomena, thank you so much for your coaching. Now that I maintain a healthy blood sugar level, I can not see myself going back eating the way I did before." – Feb, 2022
Kinan

"I have seen Filomena since October of 2018 and she has helped me through a very difficult point in my life. At the time, I was really struggling with my weight, self-esteem and self-image. […] She really taught me the importance of food choices and how I should build a healthy relationship with food. She was very thoughtful, considerate and patient with me through my journey! She never looked down on me and she always gave me new guidance every time I entered her office. […] She has completely changed my outlook on food and a healthy lifestyle, and I always remind myself that the critical factor, as she has taught me, is finding a healthy balance in life. […] Thank you for changing my life!" – Jan 2022
Prestige Tutoring

"Filomena is a fantastic nutritionist. I have worked with her for a year and she has helped to completely transform my lifestyle. She has helped me navigate healthy eating and individualized it for my lifestyle. I love her approach that no food is off limits, but rather understanding how it should be incorporated into your life. Working with Filomena has changed my life for the better. 10/10 recommend!" – April 2022
Serina Zappa

"I have suffered from IBS and Diverticulosis since I was 5 years old […] I started working and secured benefits and thought I would reach out after seeing the reviews for Filomena online during the pandemic. She said that I was a pretty extreme case compared but she didn't shy away at all. […] I swear to you for the first time in my entire life, I had solid stools for a week the first week I worked with her and life has never been the same since in the best of ways. […] I have been successful for my 3rd month. My friends and family's jaw drops when I tel them. They can not believe it! Neither can I! I can not describe to you how the quality of my life has improved from spending every morning on the can to going once a day normally." – June 2021
Glam Goes Green

"I found Filomena through google search and word of mouth, I must say she has been the key to my weight loss journey! I had been16 months postpartum and had found it extremely difficult to lose the last bit of baby weight through vigorous exercise. Filomena has helped me reached my goal to my pre-baby weight! I feel great and amazing and can finally fit into my clothes again! She has taught me the importance of nutrition and how exercise alone, just won't cut it! Thank you Filomena for being an amazing coach! I highly recommend her if you are looking for real results! It is not a diet, it is a healthy lifestyle :)" – Oct 2020
Mia Le

"Filomena is that best friend who you could count on for any question or concern. Throughout the 6-month program, she was very compassionate, thorough, patient, relatable, and very informative. I appreciated that she took her time to understand her client's needs, mindsets and lifestyle, and developed a tailored and sustainable meal plan. You didn't feel like you were following a plan/list, but more like a balanced lifestyle while still enjoying your favourite foods. Every session was always an eye-opener, and with her personable and open personality, you could talk to her about anything. This is a very personal journey but with Filomena guiding you, you'll reach your goals. You'll learn so much more about yourself and your capabilities in the most sustainable way. Thank you Filomena!" – Dec 2020
Sona Miglani

"I cannot thank Filomena enough for this amazing journey I've been on and continue to be on. I've not only lost weight but Filomena has helped me with my relationship not only with food but also my with my personal relationships. She has shown me how important it is to care about myself and my body. She is a fountain of information and so knowledgeable. She is passionate about what she does and she truly cares about her clients and wants them to succeed in their journey. She is always ready to answer questions and concerns her clients may have. Thank you Filomena!" – March 2021
Elsa Iafrate

"I don't use the word "life-altering" often with respect to Health Professionals but in this case how Filomena was able to reshape my life since we began working together in April of 2019 was nothing short of evolutionary. Filomena took me on as a client in total "life-distress" and immediately took control of the process with a firm and professional hand, stayed compassionately invested and communicated openly throughout our time together (which ended in July 2020), and absolutely shocked me with how rigorous dedication to an overall wellness plan could not only meet but exceed my expectations. I went from being an obese late-40's male riddled with health and psychological issues to a physically fit and mentally strong 50-year old male with the same body type that I enjoyed in my mid-30's." – Nov 2020
Paolo LaMonica

"Filomena is the most wonderful and most patient dietitian. She genuinely cares about you being your best and healthiest self. I'm making meals I wouldn't think to make for myself normally, and I feel like I'm on the right track because of everything she's instilling. She really makes you think outside the box, and she's full of so much knowledge! Its not about dieting, it's about an entire lifestyle change. With her help I'm going to be able to be my best self not just for me, but for my daughter too. She's truly amazing, and I'm so beyond appreciative." – Oct 2020
Monica R.
Sign Up For Our FREE Monthly Newsletter!
Add more health and wellness to your routine:
✓ Professional Health Tips from a Registered Dietitian
✓ Nutritional Recipes
✓ Plant-Based Meal Ideas
✓ Weight-Management Tips
✓ Answers to Frequently Asked Questions
✓ Industry Research, Breakthroughs & News
✓ Access to Upcoming Events
Are you optimizing support for nutrition in your benefits plan?
As more Canadian employers recognize that healthy food choices and nutritional knowledge can improve employee health and productivity, dietitian services have become more accessible than ever!
If you are interested in consulting a Registered Dietitian, please check with your employer and/or health insurance provider regarding your coverage.
For more information visit: www.dietitians.ca/employeebenefits
It is estimated that more than 1 in 4 Canadians suffer from one or more preventable diseases such as Obesity, Type 2 Diabetes, and/or Heart Disease.
Reclaiming Health Through Food & Nutrition.
If you are interested in requesting a consultation or booking an appointment, please feel free to contact us below:
MONDAY – FRIDAY
9 AM – 6 PM
From the comfort of your kitchen.
(Accepting In-Person Appts)
Columbus Medical Building
8333 Weston Rd, Suite 405
Woodbridge, ON
L4L 8E2
CONTACT FORM UNDER CONSTRUCTION
Please email [email protected] for questions & inquiries.